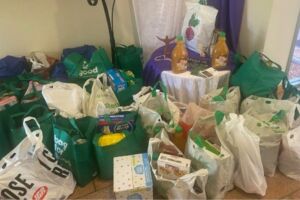 This week saw the return of Good Shepherd Catholic Primary School's involvement in the 'Being Christ to Others' initiative. Staff and families provide meals on a rostered basis to needy members of our local community in conjunction with the St Vincent de Paul Society.
For the last nine years, the school community has been regularly collecting donations of meals and other necessities for families in need. 
Mrs Cathy Burke, Family Educator of Good Shepherd Catholic Primary School, commented,
It was wonderful to see our families living faith in action. The generosity of our community goes a long way in supporting those in need.
St Vincent de Paul Society representative, Noel O'Donnell, along with his wife, Eileen, work closely with the school to arrange opportunities for us to support the important work of the organisation.
With easing Covid restrictions, the school community looks forward to resuming support for other initiatives of the St Vincent de Paul Society such as assistance with Night Patrol sandwich and soup making, cleaning of the night patrol bus and sorting donations.
Our Good Shepherd Mini Vinnies group, made up of students from Years 4-6, will also begin work across the school from this week. Mini Vinnies introduces children to the St Vincent de Paul Society, social justice issues, and to ways in which they can live faith through action. Mini Vinnies members provide opportunities for the whole school to become aware of these issues and to engage in activities that help to address these challenges.
We are very lucky to have such a giving community.