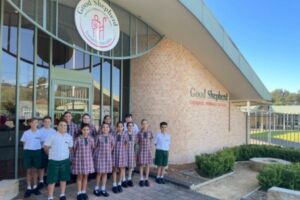 It was 25 years ago that Good Shepherd Primary School, Hoxton Park, opened to just 54 students. Foundation Principal, Frances Kelly, together with Parish Priest at the time, Father Michael Keogh, and Foundation Staff: Liz McQuade (McQuade-Jones), Mary Weaver, Kathryn Hayes (Southall) and Pauline Michael, worked relentlessly to grow the community to be a place where each person nurtures, and is nurtured, to realise their full potential. 
Foundation Principal, Frances Kelly, recalls the journey from empty buildings to a flourishing school community. 
In partnership with trusting and supportive parents, this dedicated staff worked tirelessly and generously to prepare the school – 3 classrooms and an office – for opening. There was no script or manual on how to open a school. The question we kept asking ourselves was: "Do we have to do things the same way as in an established school?"

When the children arrived on the first day, all our dreams, plans and hard work were realised. We were a school, at last.

One of my many strong memories was this: on a very hot day, and with parental permission, we were able to give the children the chance to cool down under a hose spray. Sometimes, this was followed by an ice block. Much fun was to be had.

Also, as teachers, I recall our consistent efforts to meet each student's learning needs.

Each year, at this time, memories of my 6 years at Good Shepherd surround me. In all my years in Catholic education, this experience is the "stand-out".

I left the school in 2002, knowing that it was a caring, Catholic learning community created by many. I still remember students, staff and families with great fondness.

To the staff, students and families of Good Shepherd Catholic Primary School, I wish you a successful year as you celebrate 25 years of wonderful memories (in spite of Covid!).

May the motto "Nurturing Disciples" guide you on your way.
As we celebrate 25 years during 2022, we pray that Jesus Christ, the Good Shepherd, continues to guide and strengthen us as we work towards ensuring the core values of our Good Shepherd School community: FAITH, LEARNING, COMMUNITY and RELATIONSHIPS, permeate through all that we say and do.